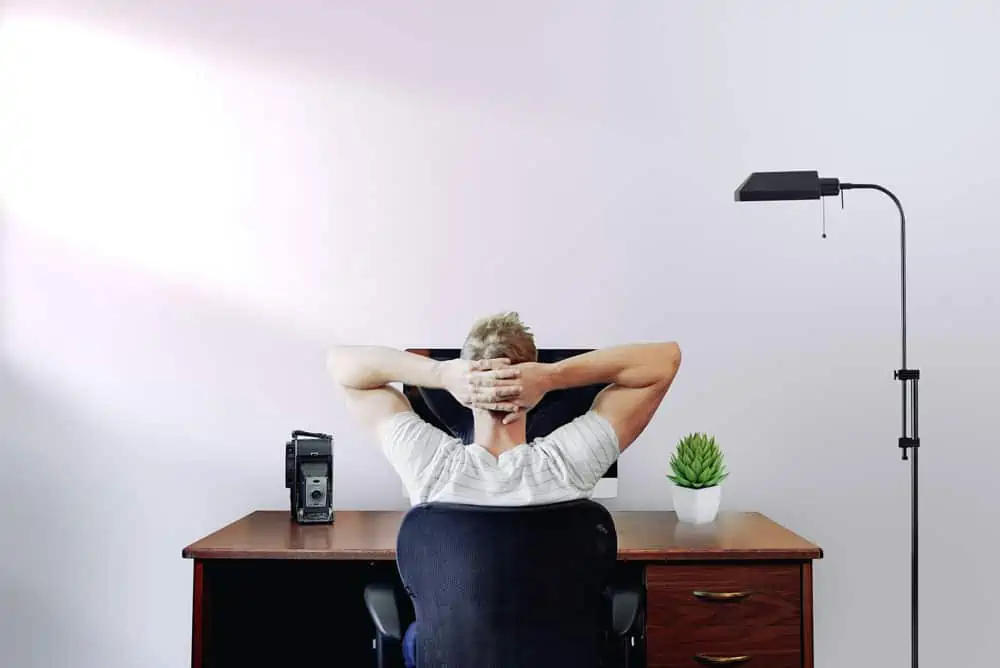 From a Small Corner, to a Dedicated Room, Let's Get Your Work Space in Order
I have worked for a completely virtual company since 2013. I have worked from a corner of our master bedroom, to a corner of our guest room, to a corner of the couch in the living room, to finally having a dedicated office space.
It is easy to find space to work in, but having a home office workstation that feels professional, has minimal household distractions, and motivates you to focus on your task at hand can be difficult. Let's take a look at a few home office ideas to create a space to balance our professional space from personal and family space.
1. Work a Home Office Into a Living Space
Working from home is becoming an increasingly popular option for people. There are many reasons why you might want to incorporate a home office into your living space: you may find that you are more productive in a familiar environment, or maybe you need to save money on childcare costs. Whatever the reason, there are many options that can help make your space more practical.
One of the most important things to consider when setting up a home office space is creating a visual disconnect between the two spaces. It is important to be able to detach yourself from work mode and into a "living" mode.
Whatever your method, it's important that your home office feels like a separate entity from the rest of your living space. When you're finished working for the day, it should be easy to walk away and forget about work!
Turn Your Working Spot Into a Home Office
If you're like most people, you probably spend a good amount of your time working at home. And if you're not lucky enough to have an office in your house, it can be tough to find the right space to get things done. But don't worry – we've got you covered with these home office ideas! Here are some tips for creating a productive home office that fits both your needs and your style.
The best way to start is by finding an unused corner or alcove in your house. This will help minimize distractions and create a more focused work environment. If space is tight, consider using a wall-mounted desk that can be easily hidden when not in use.
Carve Out Space
If you're like many people, you may be working from home now that so many jobs require it. And if you're anything like me when I started working virtually, your living room has become your office. But there are ways to make the most of the space you have and create a more productive work environment.
Laptop roller carts are great for this arrangement. It allows you to be comfortable in a spot, but then when you are done you roll/store your laptop away. This also works great when you have to temporarily carve out space. There are a couple of times a month that my husband and I have overlapping calls. We both can't be on a call at the same time in the office. One of us carves out space, using our laptop carts to work temporarily outside the office.
Another idea is to color block your space. Painting one wall different colors than the others can help define an area for work and another for relaxation. You could also use creative wallpaper designs to add interest or hang interesting art on the walls. You could also simply use a room divider screen.
Take Over an Unused Space
If you're one of the lucky ones with an unused space in your home, why not take advantage of it and turn it into a workspace? Not only will this give you some much-needed privacy, but it can also increase your productivity.
Similar to carving out space that we talked about above, the key here is to make it dedicated space. You still might need to create a divider of the space to distinguish professional from personal space.
Add an Office Corner to a Bedroom
You can transform this into an office with just a few simple changes. Adding an office corner to a bedroom is one way to make the most of the space you have. You can use colors and furniture that match or coordinate with each other, depending on the look you're going for. Again, a room divider screen of sort could really help to distinguish personal space, especially if this is in a master room.
Having an office corner in your bedroom enables you to work in peace and privacy without having to leave home. Plus, when you're finished for the day, everything can be tidied away, so you don't have to worry about cluttering up your living space. This is a great option for people who don't have enough room for a dedicated home office.
2. Minimalist Work Space
When it comes to a minimalist work space, there are a few things you should keep in mind. First, try to choose a simple color palette and stick with pared-down, minimalist decor. This will help you stay focused and avoid distractions. You also want to make sure your office area is clean and uncluttered, so choose strategic accents of color instead. And finally, don't forget to include some fun from-home items like wall decals or bright accessories for a zen feel in your workspace. A monochrome color palette is also a great way to keep your space clean and understated.
Create a Home Office Zone
If you're working from home, it's important to create a designated space for your office. This will help you to stay organized and focused. Here are a few tips for creating a home office zone:
1. Use shelving to create walls that separate your office from the rest of the room. This will help you to focus on your work and minimize distractions.
2. If natural light is not an option for your zone, use overhead lighting in order to get plenty of light while you work.
3. Choose furniture that is open and airy. This will allow light to flow through the space and make it feel less like a 'room'.
4. Use dividers to create different zones within the same room, if needed. This is a great solution if you want to use an existing area for your home office.
Clean and Bright
When you're looking for an office space that will inspire productivity, cleanliness and brightness should be at the top of your list. A home office that features plenty of natural light is known to boost moods and energy levels. Having a clean and organized space will minimize the distractions around you and can also create a clearer mind.
It can be very distracting when you are preparing for a conference call, yet looking at the pile of laundry to fold, or the stack of dishes to wash. Fewer distractions lead to greater focus.
Sleek and Unique
There are many ways to design an office space, but some people prefer a sleek and unique look.Less is usually more, but this also depends on what your profession is. Regardless of whether you need a ton of supplies, or just a laptop, keeping your area sleek and unique will help you stay organized and motivated.
Neutral Home Workspace
A neutral work space is often seen as a great option for those who want to be distraction-free. By having a clean and simple palette, it allows workers to focus on the task at hand. Additionally, a neutral office is easy to blend in with other textures and colors, which can create a warm and inviting environment.
Some people may think that a colorful or vibrant office would be more inspiring, but often this can lead to distractions. A moody office with deep colors may be better suited for some people, while others may prefer lighter shades. The key is finding what works best for you and your mind set for optimal productivity and focus.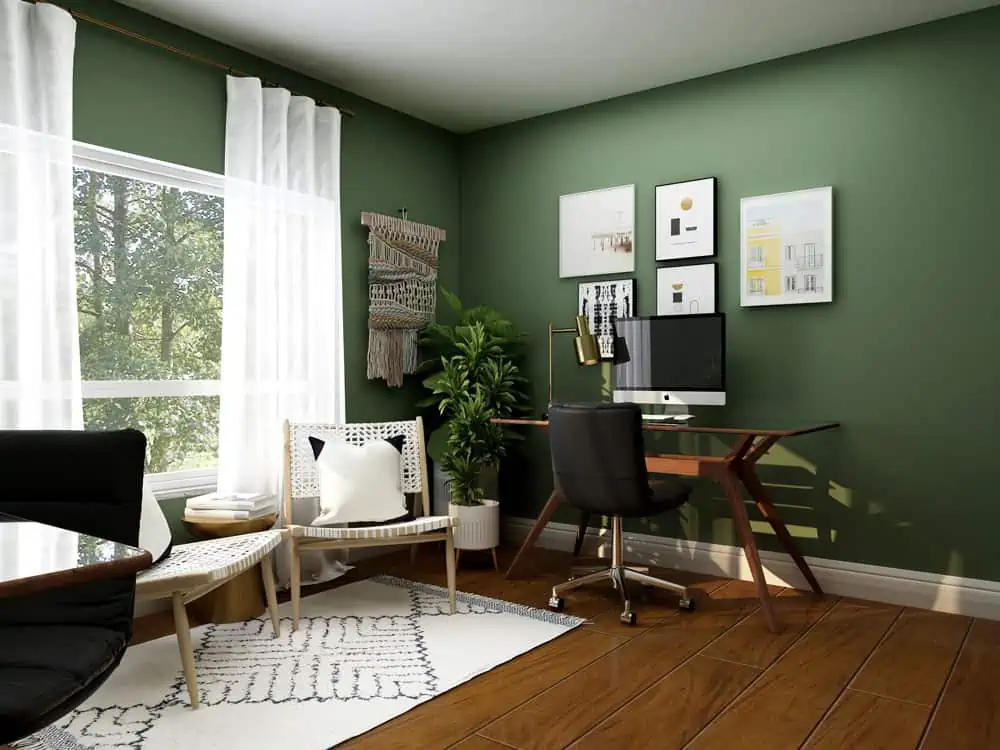 3. Contemporary Home Office Ideas
A contemporary home office is the perfect place to get work done. With a great desk and plenty of storage, it has everything you need to be productive. Bright colors and interesting wallpapers can make this space fun and inspiring, making it easy to get in the mood for work. And with a comfortable chair to relax in at the end of the day, this style of office is sure to keep you productive and happy.
Put Your Home Office to Work
A lot of people are working from home these days, and if you're one of them, you know that it can be a challenge to find the right space to set up your office. Maybe you've been using the dining room table or your bedroom, but if you want to be more productive and less distracted, it's time to find a better spot. An underused space in many homes is the alcove–a small nook between two rooms. If you can carve out a bit of this unused space, you can have yourself a nice home office.
If your home doesn't have an alcove, don't worry–you still have options. One idea is to put up some shelves and mount your work surface on the wall. This will free up some valuable floor space and give you somewhere to store your supplies and files. Another great idea is to use a fold-down desk that stores away when not in use. This way, you'll always have extra room when guests come over.
No matter what type of home office setup you choose, make sure it fits your needs. Think about how much storage space you need and where everything will go so that it's easy for you to access when working. And don't forget about lighting–you'll need plenty of it to stay productive. If your office is in a dark corner of the house, consider adding a desk lamp or some floor lamps.
The most important thing is to make your office feel comfortable. Add some personal touches, like photos or art that you've made yourself, and make sure the space is comfortable for you to work in. With a little creativity, you can turn any room into a productive home office space.
Office With a View
One of the reasons I didn't use the spare bedroom in our previous home as an office is because the window faced the back parking lot. It wasn't very motivating to stare at our vehicle while trying to be motivated, creative, and productive.
When we moved to our current home, one of the 'have tos' was a room with a view dedicated to a home office. In choosing to use the middle room as a dedicated office, I have a window facing the backyard and the room opens to the family room, so I also have a side view of the front yard. This also allows our daughter to play outside with full view of her.
Home Office Decor and Art Ideas
Don't feel like you have to stick to one era or style when it comes to art in your home office. A mix of vintage and contemporary pieces will look more natural than a single style. Try thinking about how different pieces might come together, not just what they are made from.
Before choosing any artwork for your home office, consider checking out what's nearby or around the space. You may be surprised by the number of beautiful options that are available right where you live! If you're still struggling to find the perfect piece, why not try placing artwork on other furniture in the room or layered on bookshelves if you have extra storage space?
Make sure the art you choose brings you joy. Nothing like having a busy day, feeling a bit stressed, and being able to look up at an art collection and feel some joy and peace.
4. Fit Furniture to Your Space
It's not always easy to find furniture that fits your space. You may have a small apartment, or you may just not have enough room for a desk that takes up the entire wall. Here are some ideas to help you maximize your productivity in a small workspace:
-A desk that provides just enough room for a laptop is often enough, but don't pick one that's too big, or it will take up too much space in your home.
-Create a space by quickly clearing a corner and installing a few pieces of furniture. The unfitted, modern feel makes this suitable for various spaces in your home.
-A drop leaf table could be used as an option when you don't have room for a desk.
Pick the Perfect Desk and Chair
When choosing a desk, it is important to consider the size of your office and how much space you will need for the purpose you want to use the desk. You also want to choose a desk that will match the decor of your home. Additionally, think about how comfortable you would like to be while working at your desk for long hours. Consider what style of chair would work best for you and if the height of the desk is adjustable so that you can find the perfect fit.
Office Desk and Furniture Ideas
When you're working from home, it's important to have a comfortable and functional space. Here are a few ideas for office furniture and decor:
-A comfortable chair and desk are essential for working from home.
-A small work space can be decorated with furniture like storage, tables, and lamps.
-There are plenty of office desks, chairs, and storage solutions available on the market.
-You can make a small office feel more spacious by using transparent furniture like lucite desk or polycarbonate armchair.
-A rug provides contrast and warmth to the space with light natural light coming in through a nearby window.
Visual Inspiration
When it comes to home offices, it's important to find ways to maximize productivity. One way to do this is by incorporating decorative accents that will help fuel your creative thinking. Keep the colors bold and keep the designs clean and minimalistic. This will help you stay focused on your work.
Another great way to personalize your space is by adding a unique style. You can get inspired by personalizing your home office space with a unique style. Our top tip for recreating this design is to use a color scheme that matches your interior. This will create a cohesive look in your workspace.
Finally, don't forget about storage! A noticeboard is a great place to store reminders and to-do lists. It's worth investing in a noticeboard as part of your home office set-up if you're more of a visual person.
5. Take Advantage of Natural Lighting
One of the best things you can do to improve your productivity in a home office is to take advantage of natural light. Not only does natural light make a room feel bigger and more open, but it's also great for preventing fatigue and improving your mood.
If possible, try to position your desk so that it faces a window. This will allow you to take advantage of the natural light streaming in and help keep you alert and focused throughout the day. If there isn't enough space by a window for your desk, consider using an adjustable arm or lamp so that you can move the light where you need it most.
However, if you're working during times when there isn't much natural light available, or if there is too much glare by the sub direction, don't worry – artificial lighting can be just as effective (and sometimes even better). Just be sure to avoid harsh fluorescent lights if possible, as they can be very fatiguing on the eyes.
Another way to maximize productivity in a small home office is by using task lighting instead of overhead lighting. Task lighting directs light where you need it most, which can save desk space. Floor lamps are a great option because they provide functional, but fabulous lighting while taking up minimal floor space.
6. Hide Your Home Office Away at Night
When you work from home, it's important to have a designated space that is separate from the rest of your living area. This will help to create a boundary between your work and personal life. One way to achieve this is by closing your work space when your professional day is done. This will make your office feel more like a professional space and your personal space your home, which can be beneficial for those who want to achieve good work-life balance.
If you're short on space, consider hiding your home office away in a closet or behind a curtain. This will help to optimize the use of your space and keep things organized. You may also want to consider using furniture that doubles as storage, such as ottomans or benches with hidden storage compartments.
7. Make Your Work Space Work For You
At the end of the day, this is a space that needs to work for you. It is a place you need to be able to go to tap into your professional side while maintaining a home feel in the rest of your house. You will probably spend more hours of the day in this one space, then any other area in your home.
For more information, visit me at YouTube