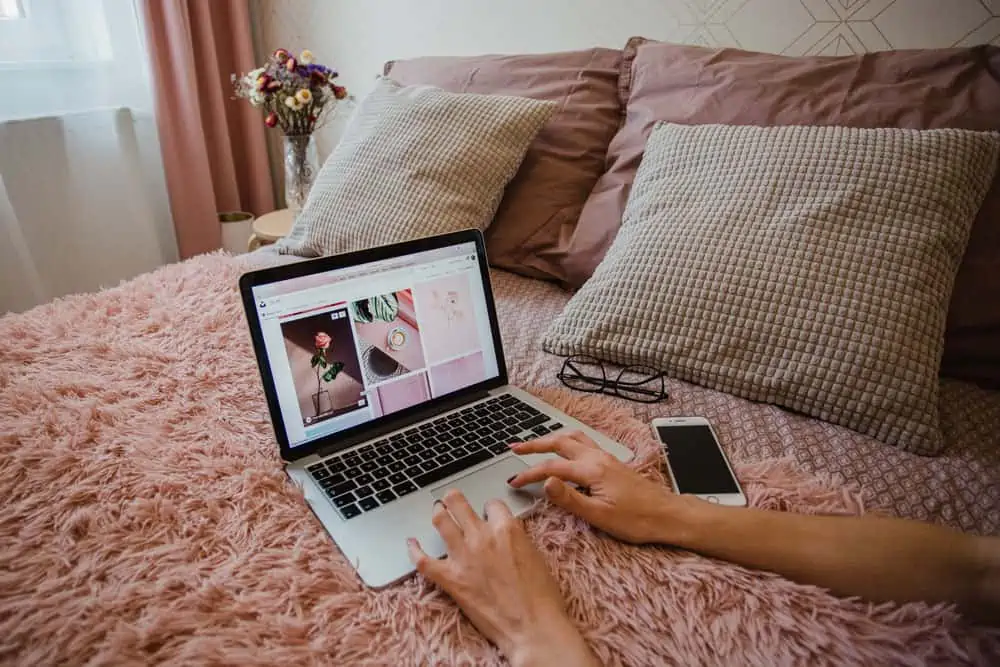 My Experience Of How To Work From Home With A Toddler
I am living my dream, but not without sacrifice.
As most of you know, I have been a full – time virtual employee since 2013. My daughter was born in 2019. I have a lot more experience being a virtual employee, than being a mom who is also a full – time virtual employee. But I am excited about sharing my experience on how I work from home with a toddler.
One of the reasons for seeking out virtual employment was to be able to be at home as we decided to grow our family. Yes, on the surface, it sounds like a dream. And I am living my dream. However, it does come with sacrifice. I am an employee, but at the same time being a Mom. I'm not able to do an 8-hour job in 8 hours. It can take me upward of 12-13 hours to complete my 8 – hour professional day. I am also sacrificing possibly a higher salary if I were to work in an office for a bigger company. But again, this is my dream, and my choice, and to me these are my 'first world problems'. These are the 'perfectly imperfect' items I am willing to accept to be able to contribute as an employee yet also have my daughter home with me. I love the company I work for, their values, my team members, and the lifestyle it provides me!
When the pandemic hit, and more people were working virtually and kids were at home, I had several people reach out for advice. The two top questions I heard were:
1: What is your favorite part about being able to work from home with a toddler?
Working at home can give moms the best of both worlds: being at home with your kiddos and providing financial support to the household. Working from home while also being a full-time mom fulfills me more as a person, knowing that I can care for and provide for my child at the same time. I am able to keep my schedule flexible, and keep her day as routine as possible, to create a balanced and fulfilling day for us all.
My disclaimer here is that we did not have to shift to virtual school. We were fortunate that our daily routine didn't really change much in the means of adjusting to a whole new virtual world of work and school.
2: What are the hardest parts about being able to work from home with a toddler?
Being a stay-at-home mom is also a full – time job. Sometimes I need to work outside business hours to get my priorities done if my child needed me more during the day. Full-time work-at-home moms have flexibility, but it isn't the same as stay-at-home moms. I still have team calls, reports, responsibilities. I still have another commitment that takes 40 hours a week. The hardest part is finding the balance between housework, work work, and mom work. Some days I feel like I no sooner check one goal off a list, and 40 more things pop up.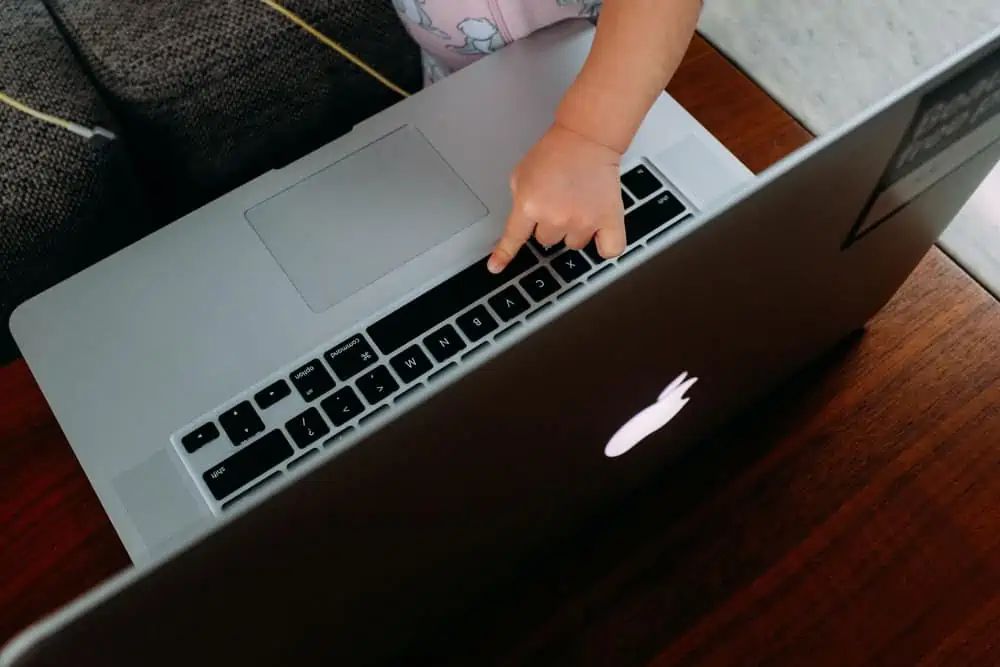 Four Tips to Think About When Working From Home With a Toddler
Encourage Independent Play
Parents who work from home with a toddler should encourage independent play. Independent play is important for a toddler's development as well as allows you some dedicated work time. There are lots of great tools that can be used for independent play, that do not include TVs, tablets, other electronic screen devices.
Activity Table – This allowed my daughter to still be with me in the office if she needed to be close, but yet, still allowed her to play freely on her own. This table grew with her from a chair inside to a play table she could stand at.
Set up a child's table – This table stays in our living room. This is her normal play table, and she feels so independent that she can read, color, play with play dough, eat a snack, feed her dolls, etc. My only disclaimer is you might be asked numerous times a day to sit in one of these 'not made for adults' chairs.
Make space in your office for your child – Aside from her activity table, she also has a set-up of toys that she is able to sit between our desks and play. This is great too, so if there is something she needs help with, either my husband or I are right there. We also keep some of her books at her level on the office bookshelf for her to read. I've also been known to randomly throw one of her toys down the hallway to make her run after it. We can have a few minutes of play time without saying a word. She just laughs and laughs, and I can do my work, one handed.
Take your laptop outside and work to let your kiddo run around – This has been by far the best tool we have used. My daughter loves to be outside. On my quieter (non phone conference days), I can easily take my laptop and her outside. It allows me to get fresh air, and she can just run and play! It's really a win-win.
Give Your Toddler Undivided Attention
Finding five minutes of undivided attention for your child could give you thirty minutes of focus time to work. I know the days I have the most amount of work to do, are also the days I need to find five minutes every hour or so to walk away from the computer and read a book to her, color a picture, play with play dough, sing a song, etc. Whatever she is doing at the time, I am at her level doing it with her. Set boundaries and make sure there is plenty of time off for work-free activities. Just a few minutes feels like an eternity in their little worlds. Putting work aside for toddlers is a great way to give them the attention they need and deserve. After all, the biggest perk of working from home is spending time with your toddler. Plus, you also get a few minutes of a mental break for yourself.
Separate Mom and Business Roles
Separate mentally from the rest of the house by setting up an office area. Before I became a Mom, I did not have a designated work station. My laptop was on a rolling cart, and I worked primarily from the couch or the kitchen. It wasn't until 2015, I found the need for this division of personal and professional space. Already having this space designated when my daughter was born in 2019 was a lifesaver. She literally grew up with us spending time in the office and time in the other areas of the home. She was observing work mode and mom/dad mode between both my husband and me.
As she grew up, we had to teach her this was a work space. The workspace is always open for her to be in, but we had to teach our daughter her role in being in the office too. You could be right next to us, but this was still going back to independent play.
Plan, plan, plan
Working from home with a toddler requires a schedule, and be sure to plan for the unexpected. When giving time estimates on a work project, I always pad time into the delivery to be sure if I need to step away for my child, I can still deliver a project on time. It never fails, my daughter could be having the best day at independent play, I'm being the most productive employee ever, then I get a call for an urgent work project, and my daughter has her melt down over a toy not sitting upright at her table.
Another area I never thought of was planning ahead for Monday mornings. We couldn't understand why these were so hard for her. We eventually learned her trigger for this was that we just spent a couple of days off from work, not in the office, not on the computer, not on the phones. It was family time with undivided attention. Now it's Monday, and why are we doing this? She wanted to continue the fun. It took a while to find ways to prepare her for Monday. Much like I have to prepare for Monday, when it came time for bed on Sunday, we would fit that into our nightly talks. 'This was such a great weekend. I had so much fun when we did XYZ. Tomorrow when we wake up though Mama and Dada have to spend some time in the office.' This began to make Monday mornings easier. Sure, some Mondays were better than others, but for the most part, I do not plan any conference calls first thing Monday mornings. I have that time to be flexible to get her settled back into the work week, along with myself.
Keep in mind, not only plan your hours, your days, your weeks, but always think ahead. What can you do today to make tomorrow easier?
For more information, visit me at YouTube